July 18-22, 2021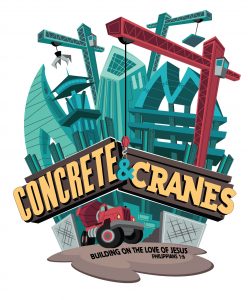 Summer Bible Adventure (SBA) is just around the corner! We are excited to announce we are back to our full SBA program this year but with new days of the week. We are running the program Sunday July 18th– Thursday July 22nd.
We are asking that this year EVERYONE (children age 3-grade 6) PRE-REGISTER by Sunday, July 11 so that we have an accurate count. PLEASE BE SURE ALL CHILDREN ARE REGISTERED BY JULY 11 IF THEY WANT TO PARTICIPATE IN SBA, NO EXCEPTIONS. Register online using the link below. There will be a free gift to all children that are registered by June 27th. We are excited to invite you to join us at our work site at Hinkletown for "Concrete and Cranes". There is something for everyone from age 3 to adult. Come join the fun! 
SBA schedule is below. There will be a closing activity on Thursday evening from 7:40-8:00pm so we hope all parents will join us for this ending activity and a treat. Please remember if you are feeling sick anytime that week, please stay home. We hope you can join us!
Sunday – Thursday
6:30 – 8:00 PM – Evening Classes
Children will have an evening of Bible lessons, crafts, games and a snack. 3 year olds – grade 6 will meet in the Sanctuary for an opening and then return at the end of the evening for closing. All children ages 3-2nd grade will get matching wristbands with their parents so parents can pick up their children at the end of the night.
Jr Youth (7th & 8th graders) will meet each night in the youth room. There will be a special speaker from Ephrata Church of the Brethren Ryan Burkholder.
Adults will meet in the back of the sanctuary and be part of the children's opening. Following the opening, Dave Houser, from EMM will be speaking. He joined EMM as the discipleship coach in August 2020. He's originally from Pennsylvania, and his wife is from California. They met in India, where they lived for 10 years, and lived together with their children in Thailand for about 9 years. He enjoys traveling, tasting new foods, and talking with people. His dream is to see the day when everyone living in this world will have heard about Jesus in a way they can understand.
Nursery provided for all children under 3 years old
Our offerings this year will focus on MDS and their role in rebuilding communities hit by natural disasters.